Affiliations and Partnerships
Affiliated Industry Associations
FCIA has developed strategic alliances with many other organizations around the world which promote fine chocolate. These organizations vary in size and function, but typically hold forums or conferences, helping to raise the profile and quality of chocolate.
FCIA Affiliated Industry Associations include national and state trade associations, international cocoa organizations, regional fine chocolate forums, and more.
Partners
FCIA has partnerships with government and non-government organizations that manage programs in cocoa producing countries. These programs help to improve not only cocoa quality, but the social, economic and environmental conditions at the farm level. Research institutions are also included in this category since they help to develop flavor standards and improve and safeguard fine cacao varietals.
FCIA Partners include research institutes, universities, non-government organizations, development agencies, and others.
---
Heirloom Cacao Preservation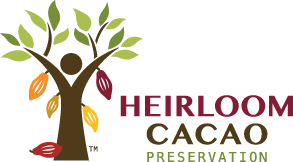 A Partnership Between The FCIA and The USDA/ARS
The Heirloom Cacao Preservation Fund (HCP) is a not-for-profit organization in collaboration with United States Department of Agriculture. Together, chocolate industry professionals, chocolate makers, farmers, and chocolate enthusiasts from around the world are determined to save the quickly diminishing Theobroma cacao trees that produce the most high quality, flavorful chocolate and identify the farmers who grow them.
FCIA and HCP are sister organizations. FCIA supports the fine chocolate segment of the chocolate industry by educating and promoting the fine chocolate professional focused on producing superior products made from premium chocolate and natural ingredients across the value chain from the cacao farmer to chocolate maker to chocolatier and pastry chef.
In 2012, FCIA partnered with USDA to create HCP to safeguard farms that produce high quality, flavor cacao that are being threatened by environmental change, deforestation, and economic influences. FCIA and HCP are committed to improving the lives of the farmers who assist us in protecting and preserving cacao diversity and the flavor of the fine chocolate our members produce.


Visit HCP
MOCCA is a five-year initiative funded by the U.S. Department of Agriculture and implemented by a consortium led by TechnoServe.